Presents "Life will never be the same again"
with Actor, Improv and Empowerment Coach Leif Riddell
New IMPROV. In the Park.
Starting July 23rd. 2020
Marine Park Tuesday and Thursdays 5:00pm-6:30pm Right off the Corner of Ave U and Stuart Street.
Join us for some safe outdoor Improv fun in the Park.
Email us  Leifsimprovplayhouse@gmail.com or              Call (212) 717 4196 for More Info. or to register. 
In Person Outdoor, and 
Virtual Private Groups or One on One Classes Available
Email Lipleif@gmail.com

Due to the Current Covid 19 pandemic our Gerritsen Beach, Kings Bay Y, and Aviator Sports and Events Center Locations are temporarily closed until further notice. We will be making updates ASAP.  We are offering Safe, Fun, Outdoor Improv Classes. We also offer OutDoor Private Groups of 4 or more. So bring your own group and have some fun outdoors.
Gerritsen Beach Playhouse
 Location
2882 Gerritsen Ave
Brooklyn NY 11229 #917 863 3803
 Kings Bay Y Location

3495 Nostrand Ave, Brooklyn, NY 11229
Register here for Classes
Improv/Intro To Acting
 

How To Audition for TV,Film, & Commercials On Camera
Aviator Sports and Events Center Location


Floyd Bennett Field, 3159 Flatbush Ave, Brooklyn, NY 11234 #(718) 440-3358    
https://g.page/AviatorSports?share
Register here for Classes
*PLEASE NOTE: A $35 ANNUAL AVIATOR MEMBERSHIP IS REQUIRED FOR EACH STUDENT TO REGISTER*
**ALL PARTICIPANTS MUST FILL OUT PROPER AVIATOR SPORTS & EVENTS CENTER WAIVER**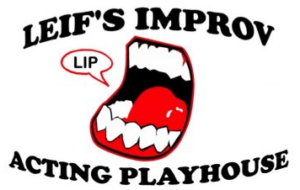 Aviator Sports and Events Center and The Kings Bay Y has partnered with Leif's Improv & Acting Playhouse to introduce acting and improv classes.
Creator, founder, and director Leif Riddell is a professional working actor, writer, director, and personal life coach with over 20 years in the film, TV, and entertainment industry.
The Playhouse offers a variety of ongoing or seasonal classes in improvisation, acting, on camera training, scene study, audition / cold reading process, vocals, and movement.
The Playhouse encourages and allows students to explore and take chances with their acting and performing. The Playhouse uses improvisational exercises and games to help students discover and develop their creative skills. While building confidence and self-esteem, Leif and other actors will walk students through all the outstanding techniques that will help enable them to feel more powerful and comfortable.
Improv./ Intro to Acting Classes: 
In a Fun, Safe and Creative Environment Students are introduced to Leif's Unique and Proven Approach of Using Improvisational Games and Exercises to create characters and scenes at the moment. Alongside Creating and Developing Characters students learn Emotional work, Vocal projection, Objects, Physical comedy, Status, and most important the "Yes and" Technique.  As they go thru this process they will build confidence and self-esteem as they discover and develop their creative talents. This is a fun filled class for Actors, Writers, Directors of all ages and levels.
Audition/Cold Reading Classes:
This advanced class focuses on the Audition and Cold Reading Process. Students will be taught and coached on Leif's Unique Sight Reading Technique. Leif's step-by-step process prepares students on how to quickly breakdown the scene get off the page and create what is needed to book a job in this highly competitive business. Leif's proven approach will help students prepare for Auditioning In the Film, TV, and Entertainment industry. This class is a must for those that want to start Auditioning for Films, TV, and Theater.
Adult Improv Therapy Class:
Adult  Improv. Therapy is a laugh a minute class that will make you an instant Improv. addict, and have you feeling better after each one you take. Leif's Proven techniques bring out the very best in each and every one that participates.  In a fun, safe, environment, you will be coached and shown ways to improve your social interactions with people, how to adjust and take action in high pressure situations, improve your public speaking and listening skills, and empower and awaken your true self.  This fun and highly educational class, helps you with breaking down any inhibition you may have, and allows you to tap into your creative insight.  By the time you finish classes you will become more empowered, confident, creative, and closer to the person you always wanted to be. This is a must class for Adults that are looking to add more excitement, wisdom, and humor into their lives. Warning: This class can change your life! See for yourself.
Commercial / On Camera Acting:
This class uses Leif's Unique Process and Approach to On Camera and Commercial acting. In each class we create, break down, and better understand Commercial copy. We then use that copy for the students to act on camera. They will be coached on all areas of acting on camera. From Close up shots, to the Master and the two shot, students will fully understand all aspects of being on camera. This process helps prepare the Actor for Commercial Auditioning and On Camera Hosting. A must for anybody looking to do Commercial or On Camera Acting.
CLASSES
Dates: Tuesday 5:pm-6:pm Kings Bay Y
Sunday 1pm-2pm Kings Bay Y
Wednesday 4:pm-5pm Kings Bay Y Performance Class
Thursday 5pm-6pm Gerritsen Beach
Saturday 11am -12am Aviator Sports And Events Center 
Age: 5yr olds & and up
HOW TO AUDITION FOR TV, FILM, AND COMMERCIALS
ON CAMERA CLASS
Dates: Tuesday 6:pm-7:pm Kings Bay Y
Thursday 6pm Gerritsen Beach
Saturday 12pm-1:pm Aviator Sports & Events Center
Sunday 2pm-3pm Kings Bay Y 
Age: 5yr olds and up
Dates: Wednesday: 7:pm – 8:pm Kings Bay Y
Age: 18 + Over
Classes must be taken consecutively.
Each Student is allowed one make-up class per 8 weeks.
Virtual Private Sessions
$75 1 hour 
5 sessions for $300
Private Group Rates available